BLACK CPA #71: Nathan T. Garrett, CPA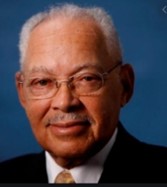 Nathan Garrett, licensed in 1961, is one of the first Black CPAs in North Carolina. In 1962, he opened his own practice in North Carolina and was the first African American to do so. After many years and a lot of hard work, the firm became the largest and oldest minority-owned firm in North Carolina.
Nathan practiced as a Certified Public Accountant in North Carolina from 1964–2004 and received NCACPA's Lifetime Achievement Award in 2010. He is founder and former executive director of the Foundation for Community Development (FDC). The FCD, originally formed as part of the North Carolina Fund, was created in 1963 to "break the cycle of poverty" that was plaguing many of North Carolina's residents. Additionally, he is chairman emeritus of the board of directors for North Carolina Mutual Life Insurance. Nathan has served as president of the National Association of Minority CPA Firms, National Association of State Boards of Accountancy, and the North Carolina Association of Minority Businesses. He also was chairman of the Minority Economic Development Advisory Committee to the U.S. Secretary of Commerce.
Share this post: